I Bring This Child

Dear Heavenly Father...
I bring this child to you.
To help me love and nurture her,
The way you want me to.



Help me to make a commitment to self,
That regularly I will pray.
Scriptures help me each day to teach,
Lead this child to you one day.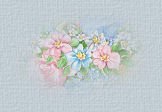 A place of worship I will need,
An example I must be.
My Love for my Heavenly Father,
Each day this child must see.



Help me to find a quantity of time
With her to spend each day.
So she may know I love her,
In a very special way.

~southbreeze~

The song "Dreams" was written and performed by Margi Harrell