Margi Harrell's CD
---
Kitten on the Keys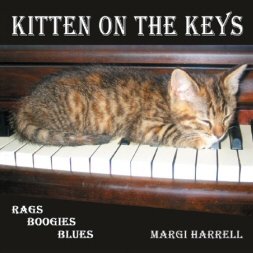 $12.99 (Free Shipping)
Since I was very young, I always enjoyed the ragtime rhythms, the boogie beats, and the lonesome sound of the blues. Our uniquely American songs with syncopated rhythms spoke to us of our forefathers and of their creative feelings. I hope that these songs bring you as much enjoyment as they have brought to me. - Margi Harrell
Song List for Kitten on the Keys CD
1. Pine Top Boogie Listen


2. 12th Street Rag
3. Dizzy Fingers
4. Kitten on the Keys Listen


5. The Entertainer
6. In the Mood
7. Jelly Roll Blues Listen


8. Stumbling Listen


9. Memphis Blues
10. Doll Dance
11. Easy Winners
12. St Louis Blues
13. Original Rags
14. Joe Turner Blues
15. The Yellow Dog Blues
16. Peacherine Rag
17. A Good Man Is Hard to Find
18. Bill Bailey
19. Stephen Foster Tribute
20. Maple Leaf Rag Listen

---
To God Be The Glory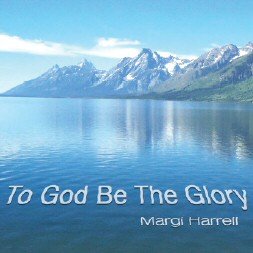 $12.99 (Free Shipping)
The My Tribute song (To God Be the Glory) is truly one of my favorite songs. The words and music touch me and let me express my thanks to God for all my family, talents, and everything else. To God Be the Glory just says it all. Each song that is on this cd is very special in it's own unique way. Some go way back to my little girl times, and some have come along much later to touch my soul, Each one has a special memory to me and I am praying it will affect you in the same way! - Margi Harrell
Song List for To God Be The Glory CD
1 My Tribute (To God Be The Glory)Listen


2 How Great Thou Art Listen


3 You Are Mine Listen


4 Here I Am, Lord Listen


5 Medley of Spirituals
- Just A Closer Walk with Thee
- Jacob's Ladder
- Let us Break Bread Together
6 I Praise You Lord
7 Holy, Holy, Holy Listen


8 For Those Tears I Died (Come to the
9 Are You Washed in the Blood?
10 I Bowed on My Knees and Cried Holy
11 How Firm A Foundation
12 God of our Fathers
- Faith of our Fathers
13 Victory in Jesus
14 Jesus, Lover of my soul
- He Hideth my soul
15 Sweet Bye and Bye
16 I'd Rather Have Jesus
17 I'll Fly Away
---
The Rose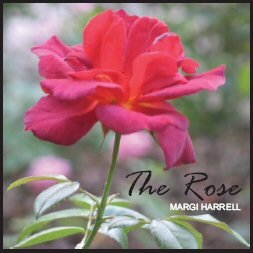 $12.99 (Free Shipping)
"The Rose" has been my most requested song, and I too love the beauty of the song, as well as the beauty of the rose. Each song on this cd is full of memories, joys, and special moments, and I do hope that each one brings those same feelings to you. - Margi Harrell
Song List for The Rose CD
1 The Rose Listen


2 Over the Rainbow Listen


3 Brian's Song
4 All I Ask of You
5 Timeless Romance Medley Listen


-Unchained Melody
-I Only Have Eyes for You
-I Will Always Love You
6 I'll Be Seeing You
7 Somewhere in Time Listen


8 My Loving Sentiments for You
9 Gershwin Medley
-Swanee
-Rhapsody in Blue
-Someone to Watch Over Me
-Bess, You Is My Woman Now
-I Got Rhythm
-Embraceable You
10 Tell Him Listen


11 I'll Never Say Goodbye
12 Sweet Memories
13 Stardust
14 Autumn Leaves Listen

---
Give Thanks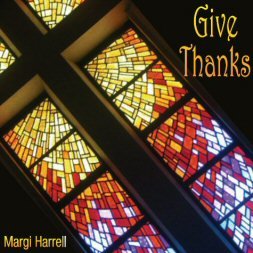 $12.99 (Free Shipping)
"Give Thanks" is a mixture of hymns from the old and precious to the new and powerful. Each hymn is very special and conveys the message in song of why we should Give Thanks.
Song List for Give Thanks CD
1 Give Thanks Listen


2 Emmanuel Listen


3 How Beautiful Listen


4 Lord's Prayer
5 I Surrender All
6 El Shaddai Listen


7 What a Day That will Be
8 Because He Lives Listen


9 Blessed Assurance
10 Peace in the Valley
11 Jesus, Name Above All Names
12 The Majesty and Glory of Your Name
13 He Touched Me
14 There Shall Be Showers of Blessings
15 Never Alone
16 Turn your Eyes upon Jesus
17 Whispering Hope
18 Why Should He Love Me So
19 Sweet Hour of Prayer
20 Abide with Me
21 Go Tell It on the Mountain
---
America the Beautiful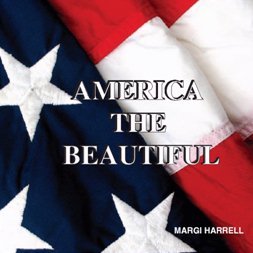 $12.99 (Free Shipping)
For the new release of "America the Beautiful" CD, Margi has chosen many of the traditional songs expressing praise and love of our country, and several songs that offer hope and prayers for peace in these troubled times.
Song List for America the Beautiful CD
1. America the Beautiful Listen


2. Star Spangled Banner Listen


3. Hymn to America
4. On Eagles' Wings
5. America
6. A Salute to our Troops
Anchors Aweigh
Marine's Hymn
Caisson Song
7. God Bless America Listen


8. Bridge Over Troubled Waters
9. Battle Hymn of the Republic
10. I Believe
11. Grand Old Flag / I'm a Yankee Doodle Dandy
12. An American Reverie
13. May the Good Lord Bless and Keep You
14. I'm Proud to be an American Listen


15. Wind Beneath My Wings
16. Let There Be Peace on Earth Listen

---
Dreams of Love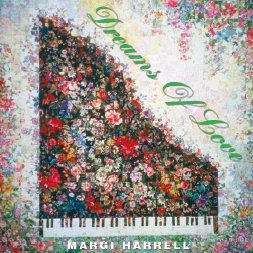 $12.99 (Free Shipping)
"Dreams of Love" contains Margi Harrell's original arrangements of a variety of beautiful love melodies and will take you to a place of romantic reverie. CD features three new originals by Margi, three lovely familiar romantic themes from classics, and a number of well-loved songs of love ranging from the decades of the thirties through the nineties. Margi was most influenced in the choice of songs for this collection by requests and responses from our patrons, customers, and friends.
Song List for the Dreams of Love CD
1. The Greatest Love of All Listen


2. My Heart Will Go On
3. Finding You
4. Keeper of the Stars Listen


5. Somewhere Out There Listen


6. Sonata Pathetique
7. As the Deer
8. Songs For My Love Listen


You'll Never Know
Unforgettable
Love Is A Many Splendored Thing
9. Swan Lake Theme
10. Heart's Desire
11. Yesterday
12. As Time Goes By Listen


13. Romantic Etude
14. Journey of the Mind
15. You'll Never Walk Alone
---
Turning of the Key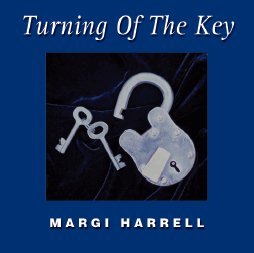 $12.99 (Free Shipping)
"Turning of the Key" is a combination of original songs by Margi Harrell, lovely classics, and inspirational renditions. The music takes you to a quiet place of contemplation, meditation, and pure enjoyment of the melodies.
Song List for Turning of the Key CD

1. Memories Listen


2. Closer Walk Listen


3. Meditation from "Thais"
4. Solitude
5. Amazing Grace
6. Cavalleria Rusticana
7. Jesus Loves Me
8. Dreams
9. Canon in D
10. Hope
11. His Care Medley Listen


12. All Things Bright and Beautiful
13. Eighteenth Variation on a theme
14. Song to the Moon
15. He Woke Me
16. Fairest Lord Jesus Listen


17. Southern Ladies
18. Piano Concerto 21
---
Old Time Gospel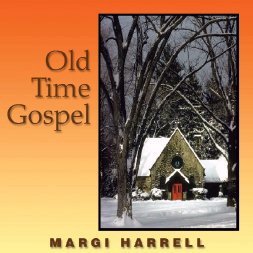 $12.99 (Free Shipping)
We have created a CD of the old time gospel favorites that are among the most loved songs that have become a part of our memories. Each song or medley is Margi Harrell's own arrangement, and the CD offers a variety ranging from those toe-tapping hand-clapping numbers to the sweet inspirational peaceful melodies.
Song List for the Old Time Gospel CD
1. His Amazing Grace Listen


2. Precious Memories Listen


3. Softly and Tenderly Listen


4. Beulah Land
5. Nail-scarred Hand
6. Ring those Golden Bells
7. Precious Blood Medley
8. His Eye is on the Sparrow
9. At Calvary Listen


10. W
hispering Hope
11. A Child's Gospel (child's version of Jesus Loves Me)
12. When We All Get to Heaven
13. Love Medley
14.Gather at the River-Unclouded Day
15. Sounds from an Old Church
16. The Old Rugged Cross Listen


17.Others
18. Stars in my Crown/God Be With You
---
Old Time Favorites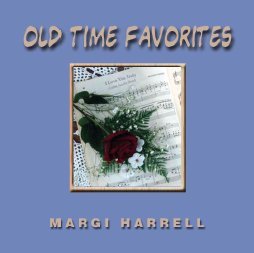 $12.99 (Free Shipping)
Margi Harrell has created "Old Time Favorites", a pleasing variety of those memorable and popular songs that never get old. Each song is her own unique arrangement, and we invite you to hear some sample songs from the CD. The songs are a collection of standards that will bring back memories, and is designed for you to sing along or just enjoy listening. There are also two old songs, Down to the River to Pray and Man of Constant Sorrow, that have been recently revived through the movie "Oh, Brother, Where Art Thou?" The CD ends with a stirring rendition of America the Beautiful.
Song List for Old Time Favorites CD
1. I Love You Truly Listen


2. Alexander's Ragtime Band
3. You Made Me Love You -- Pretty Baby
4. Ain't she Sweet Rag Listen


5. A Pretty Girl is Like a Melody
6. After You're Gone
7. Nola
8. The World is Waiting for the Sunrise
9. Down Yonder
10. Angels Watching Over Me (All Night, All Day)
11. Man of Constant Sorrow
12. Shine On, Harvest Moon
13. April Showers
14. Ragtime Cowboy Joe Listen


15. Rockabye Your Baby with a Dixie Melody
16. Play a Simple Melody
17. St. Louis Blues Listen


18. Down to the River to Pray
19. Home Sweet Home Listen


20. America the Beautiful
---
Hopes, Dreams and Meditations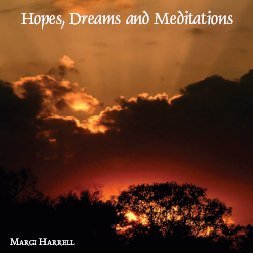 $12.99 (Free Shipping)
"Hopes, Dreams and Meditations" contains several originals, old favorites and piano tunes. Margi Harrell has created a set of musical compositions designed to be used as a tool for relaxation and meditation or as soft background music for entertaining guests, working, or spending time with a loved one. We have had wonderful response from our CD's and guarantee their quality.
Song List for Hopes, Dreams and Meditations CD
1. Hope Listen


2. In the Garden Listen


3. You Tell Me Your Dream Listen


4. Dreams Listen


5. It is Well with My Soul Listen


6. Barbara Allen
7. Sugar Plum Fairy
8. Let Me Call you Sweetheart
9. The Swan
10. Memories
11. Mother
12. Ava Maria
13. Romance
14. La Goldrina
15. Margie
16. Aura Lee
17. Meditation from Thais
18. Solitude
---
Hymns for You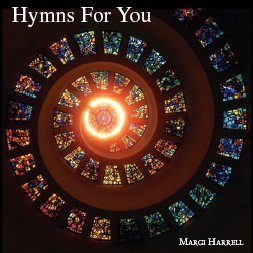 $12.99 (Free Shipping)
"Hymns For You" is a cd of fifty-two hymns played by Margi Harrell as a 60 minute continuous flow of one hymn flowing right into the next. The hymns are familiar beloved hymns of many denominations and are designed to offer enjoyment, meditation, and inspiration.
Song List:
1. Sweet Hour of Prayer
2. He Leadeth Me
3. Blessed Assurance
4. Grace Greater than Our Sin
5. Amazing Grace
6. Jesus Saves
7. Marching to Zion
8. Victory in Jesus
9. Sweet Bye and Bye
10. Make Me a Blessing
11. At Calvary
12. Wonderful Grace of Jesus
13. There Is a Fountain
14. Fairest Lord Jesus
15. Lily of the Valley
16. What a Friend
17. My Jesus, I Love Thee
18. Love Divine
19. I Am Resolved
20. Love Lifted Me
21. Old Rugged Cross
22. How Great Thou Art
23. Just a Closer Walk with Thee
24. Showers of Blessings
25. Jesus Paid it All
26. Onward Christian Soldiers
27. Shall We Gather at the River
28. At the Cross
29. Great Is Thy Faithfulness
30. Take the Name of Jesus with You
31. 'Tis So Sweet to Trust in Jesus
32. Precious Memories
33. Oh, How I Love Jesus
34. Nail Scarred Hand
35. Precious Lord, Take my Hand
36. In the Garden
37. Leaning on the Everlasting Arms
38. When We All Get to Heaven
39. Near to the Heart of God
40. It is Well with My Soul
41. Farther Along
42. The Unclouded Day
43. When They Ring those Golden Bells
44. He Lives
45. Stand Up, Stand Up for Jesus
46. God Be with You
47. Rock of Ages
48. Just As I Am
49. Have Thine Own Way
50. Jesus, I Come
51. Only Trust Him
52. Blest Be the Tie
---
The Joys of Christmas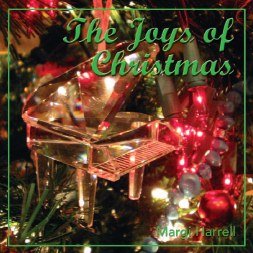 $12.99 (Free Shipping)
For your holiday enjoyment, we proudly offer the Joys of Christmas, guaranteed to enhance your Christmas season. Margi has chosen Christmas songs that evoke special memories and joys in her heart and some that remind us of the true meaning of Christmas. The Joys of Christmas is a delightful collection designed to make your Christmas season even merrier!
Song List for the Joys of Christmas CD
1. The Joys of Christmas Listen


2. Silent Night Listen


3. Jingle Bells in Style
4. Oh, Holy Night
5. White Christmas Listen


6. Birthday of a King
7. Santa Claus is Coming to Town
8. Christmas Medley
- Angels from the Realm of Glory
- It Came Upon the Midnight Clear
- I Heard the Bells on Christmas Day
- Oh, Little Town of Bethlehem
- Oh, Come All Ye Faithful
- Hark, the Herald Angels Sing
- We Three Kings
- What Child Is This
- Away in a Manger
- The First Noel
- While Shepherds Watched Their Flocks
- Joy to the World
9. I'll Be Home for Christmas Listen


10. Caroling, Caroling and the Wassailing Song
11. The Holly and the Ivy
12. The 12 Days of Christmas
13. St. Nicholas Swings Upon the Housetop
14. Missing You this Christmas Listen


(dedicated to our troops away from home)