The chocolate Easter bunny,
Sat in a plastic pack,
A pink ribbon 'round his neck,
With a big bow tied in back.

He had a heart of peppermint,
And two gumdrop eyes that glowed,
Whiskers of fine coconut,
And a tail of marshmallow.

His nose made of white icing,
Just as the buttons on his vest,
And his ears! His ears! His great, long ears!
Solid chocolate, at its best!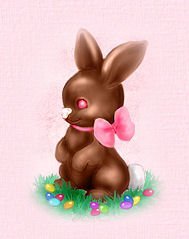 What a stupendous Easter rabbit,
What an awesome delicacy,
One lick ... one bite ... was all it took,
For instant ecstasy.

Yet there was cause for some dilemma,
One, never quite sure where to start,
Does one nibble first upon an ear
Or go for the peppermint heart?

But, once that decision's made,
And the process has begun,
Look out for sticky fingers,
And for faces and for thumbs.

A child's smile makes it all worthwhile,
Whether they start at the tail or the nose,
And a choc'late bunny is only as good,
As the grin on the face it bestows.